Interflora sues Marks & Spencer over Google ad links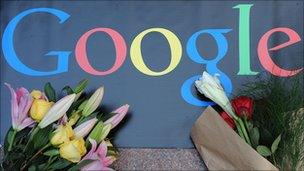 Interflora has begun a European legal challenge against Marks and Spencer over the department store's alleged piggy-backing on Google searches for the flower retailer's website.
M&S paid Google to promote its own flower business in search results any time a user looks up Interflora's name.
The M&S link would appear directly below Interflora's in the search engine's "sponsored links" section.
The case follows a similar failed case against Google from luxuries firm LVMH.
In that case, the French company - famous for its Louis Vuitton brand - claimed Google was unfairly promoting third-party retailers in its sponsored search results.
LVMH wanted web users to go straight to its own online store, instead of buying through an intermediary.
Google won that European court case in March.
But the Interflora case differs in two important respects.
Firstly, in the LVMH case, the French luxuries manufacturer wanted to control its brands, but was not actually facing a loss of business, because the retailers were still selling its goods.
However, M&S is seeking to promote its flower business in direct competition to Interflora.
M&S said that it is "industry wide practice, which we say is not unlawful". Interflora declined to comment.
Secondly, unlike LVMH, Interflora is not suing Google for selling keywords that the company believes to be trademark-protected.
Instead, the florist is suing its competitor, M&S, for buying those keywords.
This follows the European Court of Justice pronouncement in the LVMH case that Google had "not infringed trademark law by allowing advertisers to purchase keywords corresponding to their competitors' trademarks".
M&S said that it was "encouraged by other cases which have gone to the Court of Justice on this question."
In a blog post on the LVMH decision, Google said that it believes "user interest is best served by maximizing the choice of keywords" and their "guiding principle has always been that advertising should benefit users".
Google has not commented on the Interflora case, as it is not a party to it.
Related Internet Links
The BBC is not responsible for the content of external sites.