UK house prices fell 3.6% in September, Halifax says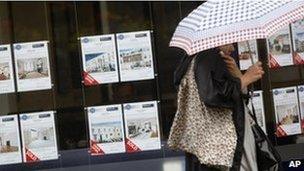 House prices fell by 3.6% in September from the previous month, according to the Halifax the largest fall on record.
However, the bank, now part of the Lloyds Banking Group, said it was too early to conclude that this was the start of a sustained fall in prices.
The three-month on three-month comparison, seen as a smoother measure of prices showed a 0.9% drop in September.
The average UK home is now valued at £162,096, the survey found.
Prices remained 2.6% higher than a year ago, the figures show, although this was down from a 4.6% rise reported in August.
It also brings it close to the 3.1% annual change reported recently in the house price index from the Nationwide Building Society.
The 3.6% drop was the biggest fall in month-on-month prices since the figures were first compiled in 1983.
Low transaction levels in the housing market meant that there was volatility in the month-on-month measure of house prices, Halifax's housing economist Martin Ellis said.
However, he said that an increased number of properties available for sale in recent months had pushed down prices.
This had come at the same time as demand for homes had fallen owing to "renewed uncertainty" about the economy and jobs, Mr Ellis said.
"Prospects for the housing market remain uncertain. Earnings growth is expected to be very modest over the next year, tax rises are on the way and more people are putting their homes on the market," he said.
"These will all be constraints on the market, dampening house prices. On the positive side, we expect interest rates to remain very low for some time, which will underpin the improved affordability position for homeowners."
Analysts agreed that the headline monthly fall was not a good guide to conditions in the market.
David Smith, the senior partner at the property consultancy, Carter Jonas, said the figure was "sensational" but not consistent with what his company had observed.
"We have offices all over the country and have seen nothing to suggest that prices fell by 3.6% during September," he said.
Howard Archer, chief UK and European economist at IHS Global Insight, said the Halifax figures were "at face value, an absolute shocker" but not necessarily a true guide to the market.
However, longer term he was expecting a sharp fall in prices.
"While the September house price drop highly likely overstates the weakness of the housing market, there seems little doubt that the housing market is now in reverse," he said.
Mr Archer added that he expected prices to fall gradually in price, losing 10% of their value in 2011.
Related Internet Links
The BBC is not responsible for the content of external sites.