Halfords boosted by car business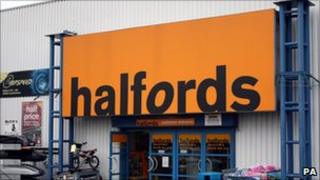 Car parts retailer and garage operator Halfords has reported a jump in revenue for the first half of the year, after taking over Nationwide Autocentres.
Revenue for the first half of the year rose by 7.6%, with profits expected to between £67m and £69m - 12% up on a year earlier, the company said.
Halfords bought Nationwide's 224 garages in February this year for £73m.
However, the company said it was "cautious about the macro-economic environment".
The takeover of Nationwide masked a fall in sales over the period. Like-for-like sales, which strip out the impact of sales at new stores, fell by 6.3% at Halford's retail division.
"Halfords will deliver solid profit growth in the first half despite the challenging environment," said the group's chief executive David Wild.
"The integration of our autocentres business is continuing well and, after this year of investment, we are well positioned to accelerate earnings growth."