Societe Generale trader Kerviel spared 5bn euros fine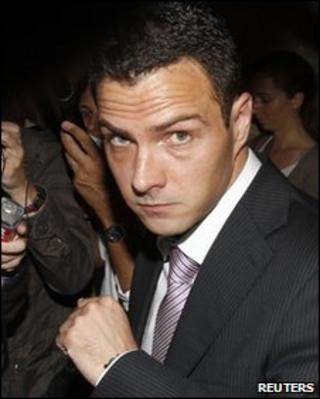 Societe Generale says it will not demand that rogue trader Jerome Kerviel pay the full 4.9bn euros ($7bn; £4bn) in damages awarded by French courts.
Kerviel was ordered to repay the money after being found guilty of losing the money through unauthorised trading while employed by the bank.
He was also ordered to serve a three-year jail term.
But the bank says it does not expect Kerviel to be responsible for repaying the full amount.
"There is no question of demanding such sums from one single man," said Societe Generale spokeswoman Caroline Guillaumin, speaking to a French radio station.
"The bank is completely open to finding another solution which is in the interests of our shareholders and employees as well as taking into account Jerome Kerviel's situation."
'Crushed'
On the basis of his current earnings, Kerviel would need about 180,000 years to reimburse to Societe Generale in full.
Even if this is obviously unachievable, Kerviel could be left with the equivalent of a living wage for the rest of his life, any exceeding amount being taken directly from his salary or pension.
Earlier Kerviel told Europe 1 radio he was "crushed" by the French court's decision to jail him for three years
In his first comments since being sentenced on Tuesday, he claimed he was being made a scapegoat for the massive losses incurred.
He was found guilty of forgery, breach of trust and unauthorised computer use.
Kerviel's lawyer said he would appeal against the conviction. He will remain free until the appeal is heard.
The total sentence handed down was five years in prison, with two years suspended. Kerviel was also ordered to repay the bank's losses and banned from trading for life.
Responsibility
"I'm starting to digest it, but I'm nonetheless crushed by the weight of the sanction and the weight of responsibility the ruling places on me," Kerviel said in the French radio interview.
He added that the court ruling was like being "hit on the head with a club".
The trial earlier this year centred on charges that he bet 50bn euros of SocGen's money without the bank's knowledge.
Kerviel's defence was the bank knew about the risk-taking and was content while he was making profits.
But the court was unconvinced, with presiding judge Dominique Pauthe telling the court that Kerviel "knowingly went beyond his remit as a trader".
Societe Generale has said it is very satisfied with the ruling and wants to draw a line under this case, from which it says it has learnt lessons by reinforcing its control systems.
The bank was fined 4m euros by French regulators for failures in those systems following the scandal.