Farmers rush for solar panel riches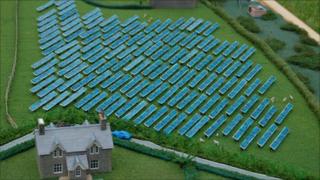 Worthy Farm in Somerset is well known for setting records.
It plays host to the Glastonbury music festival - the largest in the world.
Now, one of its cowsheds is set to become the UK's largest agricultural solar array, benefiting from the governments new feed-in tariff scheme, which rewards people for generating solar power.
And it is unlikely to be the last.
But as farmers around the country rush to take advantage of the scheme, the government is considering lowering the subsidy as part of the Spending Review.
On-farm solar
The tariff is designed to reward people for installing renewable energy by paying for the electricity they generate.
It pays up to four times the retail cost of electricity, whilst also allowing the power to be used for home appliances.
Or, as is the case here, for a dairy farm.
For Michael Eavis, owner of Worthy Farm and host of the Glastonbury festival, it is the perfect opportunity.
"It's a very good offer," he insists.
"They are encouraging people like myself to have a go and to do it.
"And I got a good price."
'Land rush'
Mr Eavis's solar roof should generate enough power for about 40 homes.
Unusually, it is built using solar panels made in the UK for a local firm, Solar Sense.
"We've seen a 200% plus growth in inquiries and resulting business since February," says their director Kerry Burns.
"It's difficult for a company to keep up with."
But the money, like much of the expertise for the new industry, is coming from Continental Europe.
Dutch ethical bank, Triodos, has extensive experience with similar tariffs in Spain and Germany and has provided £500,000 to this project.
The bank is aware of the pitfalls. Spanish tariffs had to be changed due to their generosity.
"We don't see it as a get rich quick scheme," says David Hawes from the bank.
"So a lot of the land rush that's going on at the moment, you have to look at the finances behind that."
Sunny Cornwall
When it launched in April, the current generous subsidy was offered to anyone who got their panels installed within 18 months.
Once plugged in you are guaranteed the subsidy for 25 years.
Mr Eavis hopes to pay off the cost of the panels and make a profit after about 10 years.
The scheme has prompted a rush for land in the sunniest part of the UK, Cornwall.
"We have seen huge interest in the use of mainly agricultural land in Cornwall for solar farms," says Tim German, head of low carbon development at Cornwall County Council.
The National Farmers Union says land-owners have been offered well above market prices to rent their land, Mr German says, as up to 50 companies are competing for space.
That adds up to more than £1bn worth of investment, he says.
Massive solar park
One of the farmers approached is John Brown, a former professional footballer for Bristol Rovers who retired early to spend more time with his profitable dairy cows.
He says the milk quotas changed all that, making dairy farming unprofitable.
"I was hoping it could be as good as dairy farming, without the work of getting out early," he says.
His solar park would generate 10 times as much as what Mr Eavis would produce.
Whilst that project is being carried out by a local consortium, Silicon Vineyards, most are likely to be implemented by firms from Continental Europe, such as the US owned Sunray.
Funding worries
But the money to fund all this ultimately comes from energy bills, not the government.
Some energy experts, such as Professor David Newbury from the University of Cambridge, argue this is the wrong way to fund a scheme that generates little electricity for the grid.
"It's essentially research, and I'm not sure that the right way to finance research... is a tax on electricity consumers, many of whom are poor," he says.
The latest Ofgem figures show a dramatic pickup in demand, with more than 10,000 installations since the scheme started.
Most are small domestic projects, but larger farm-based schemes are due to be installed, and so claiming the guaranteed payments, during spring.
The scheme was only launched in April, with cross party support, but the government has now confirmed it will be subject to the Spending Review, with a view on its impact on bills.
With projects already underway, this has sparked fury in the industry.
"If they touch the feed-in tariff, you can forget about private sector funding for renewables," says Ray Noble from the Renewable Energy Association.
One man unlikely to be concerned is Mr Eavis.
His project is likely to be installed well before the government can change the subsidy regime.