BHP Billiton-Rio Tinto Australian deal 'at risk'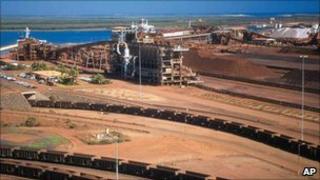 Plans by mining giants Rio Tinto and BHP Billiton to merge their iron ore operations in Australia are facing collapse, reports suggest.
The proposals have raised anti-competition concerns among customers including China.
Rio Tinto accepted there were "potential obstacles" though said it had made "no final decisions" about whether to proceed with the deal.
But Australian media said the tie-up was set to be scrapped.
In a statement, Rio said that Japan and South Korea had raised objections to the deal, with possible concerns also from the EU and Australia.
"The board acknowledged recent communications from regulators that indicate potential obstacles to achieving clearance for the joint venture," Rio said.
Shares climb
The joint venture was announced in June 2009, as Rio battled large debts after taking over Canadian aluminium group Alcan.
The joint operation - which would be Australia's biggest merger to date - valued the business at $116bn (£72.9bn). It was expected to save the firms $10bn through sharing costs.
But soaring iron ore prices, along with continued demand from China, have helped both BHP and Rio make strong profits - and therefore reduced the attractiveness of the deal, analysts say.
The Sydney Morning Herald, which reported the collapse of the deal, added that Rio was also opposing the venture because of a feeling that its terms favoured BHP.
They said the firm was preparing to inform BHP - a former takeover suitor - of its decision.
The reports sent shares in both firms up by about 2% in Tuesday trading in Australia.