Card fraud at lowest for 10 years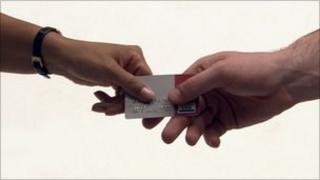 Card fraud losses in the first six months of the year were at their lowest level for 10 years, at just £187m, the banking industry says.
Online banking fraud was 36% lower than in the first half of last year, at £25m, said the UK Cards Association.
Phone banking fraud was up 9% to £6m, but cheque fraud losses fell 13% to £14m.
The half-year figures follow the 28% drop in card fraud reported for the whole of 2009.
That was the biggest annual drop since current statistics were first published in 1999.
"These figures are testament to the importance that the UK's card companies place on driving down card fraud losses and reducing any inconvenience to customers," said Melanie Johnson of the UK Cards Association.
'Unusual spending'
The booming use of plastic cards, along with the growth of telephone and internet banking in the past decade, has offered a field day to fraudsters.
In the 11 years from 1999 to 2009, the UK banking industry and retailers lost £4.7bn to plastic card fraud.
For the time being, though, the various security measures promoted by the industry in recent years have been having some effect.
As well as using chip-and-pin numbers on cards here and abroad, banks are increasingly using online verification software when people use plastic cards to shop online.
The UK Cards Association said fraud on cards abroad had halved in the past two years.
"One of the factors causing this is the fraud detection systems used by the banks and card companies, which monitor for unusual spending - meaning that potential fraud is stopped before it happens," it said.
"The increasing rollout of chip-and-pin in more and more countries around the world also makes it harder for criminals to commit counterfeit card fraud."
Cheques
The various types of card fraud, such as card numbers being used for phone, internet or mail order fraud, or the use of fake cards, still dwarf online and phone banking fraud, and still produce huge losses for the banks and retailers.
Those card losses reached a peak in 2008 of £610m, but have been falling since then.
Reported phishing attacks, where people are sent fraudulent emails in an attempt to fool them into revealing their bank account details, are still rising, with more than 31,000 cases reported in the first half of 2010.
Cheque fraud has been falling, partly due to the rapid drop in their use.
Many retailers have stopped accepting them and cheque guarantee cards, first introduced in 1969, will stop being used at the end of June 2011.
"The overwhelming majority of attempted cheque fraud gets stopped before the cheque is paid," the UK Cards Association said.