Tesco enjoys 12.5% jump in profit driven by Asia growth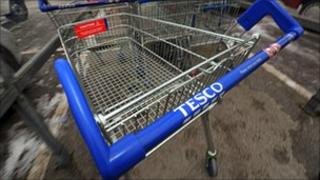 Supermarket giant Tesco has reported half-year pre-tax profits of £1.6bn, boosted by strong Asian sales.
The profit figure, for the six months to 28 August, was up 12.5% on the same period a year earlier.
The company said sales growth in the UK was "modest", in contrast to Asia, where underlying sales rose 5% in the past three months.
Chief executive Sir Terry Leahy said the firm was experiencing "the tailwinds of recovery".
'Slow and steady'
"The headline number shows a robust performance from Tesco and demonstrates its strategy of driving growth through international expansion continues to pay dividends," said Neil Saunders of consultancy Verdict.
"However, beneath the headline number, UK performance is far more muted and, excluding the boost from higher petrol prices and the rise in VAT, underlying sales growth is pretty anaemic."
Tesco said its UK sales were dampened by low food price inflation and higher fuel costs, meaning customers spent more at the pump instead of in store.
Economic recovery was "slow and steady", Sir Terry said, before adding that the company had coped well with "subdued demand".
Sir Terry will retire as Tesco's chief executive in March 2011.
The company also announced that it planned to hire 16,000 new staff this year, 9,000 of them in the UK.
Global strategy
In contrast to the UK, Tesco - which is the world's third largest retailer - saw a strong turnaround in its international business.
The company said that its Asian markets were "emerging strongly" from recession, with profits rising 30%.
Helped by store openings and strengthening Asian currencies, the total value of its sales in Asia overtook those in Europe.
Tesco also saw 43% growth in its US business against a year earlier, although US sales are still only about a twentieth of its sales in either Europe or Asia.
The positive news from its US "Fresh 'n' Easy" chain may allay concerns that Tesco's loss-making American expansion strategy is not working, according to Justin Scarborough at the Royal Bank of Scotland.
The company said it was accelerating store openings, and is targeting to break even in the US market by 2013.
Meanwhile, European sales also turned the corner in the last six months, although they continued to lag in Ireland.
Dividend
For the company as a whole, sales grew by 8.3% to £32.9bn.
Some of that growth was due to the weakness of the pound boosting the value in sterling of international sales. Stripping out this effect, sales rose by 6.4%, or 5.5% excluding fuel sales.
The results are "fairly good and fairly in line with forecasts" said Mr Scarborough.
He also pointed to the retailer's strategy of selling its stores and then leasing them back again - essentially a cheap form of borrowing that also allows the company to book a gain on the sale value of its stores.
The company has carried out £1.2bn of such store sales in the last six months, mainly in the UK, and is using the proceeds towards funding its overseas expansion. It still owns over 70% of its stores.
The company said its board had approved a dividend of 4.37p per share, up 12.3% on the previous year, to be paid out on 24 December.
Tesco's share price initially rose 1.8% following the release of the report, but then fell back in later trading, to close almost unchanged at 430.2p.
'Double dip'
Meanwhile, food retailer Northern Foods revealed that its sales growth also picked up in the three months to the beginning of October.
Underlying sales were up 7.1% in the period compared with a year earlier, compared with a fall of 1.6% in the previous three months.
However, the company's boss said it was positioning themselves for a possible double-dip recession.
"We don't know whether there's going to be a double-dip or not, but we are planning for it and keeping a weather eye open on it," said chief executive Stefan Barden.
The company - which produces Goodfella's pizzas and Fox's biscuits, among other products - has reorganised its business into two units in order to save costs, and has strengthened its line of budget products, which proved popular during the recent recession.