US investors plough cash into farmland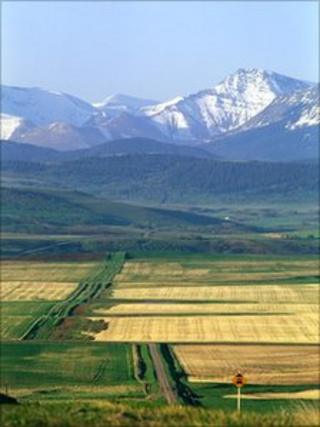 The American author Mark Twain said, "Buy land, they're not making it anymore".
More than a century after his famous quote, an increasing number of investors in the United States seem to be following his advice.
Investment managers in the US report rising interest from pension schemes and retail investors in funds that buy and run farmland in developed countries.
Investors are looking for a better rate of return than that available from bank accounts, bonds and an uncertain stock market.
"People have seen that the farmland asset class has performed very well, especially during the 2008 volatile period," says Jeff Conrad, chief executive of Hancock Agricultural Investment Group, based in Boston in the US.
"There's just more interest from institutions to buy farmland and add it to their portfolio.
Mr Conrad's investment firm owns land in the US, Canada and Australia and grows a variety of crops including corn, peanuts and apples.
Its fund returned 13% in the three years to the end of 2009, compared with a 5% loss an investor would have made on the S&P 500 index of leading US companies.
The return is made up of income from running farms as well as the appreciation in the value of farmland.
'Regulation required'
But not everyone agrees with investing in agricultural land.
Critics of the practice say it contributes to rising food costs, artificially pushes up the price of land and so adversely affects rural communities.
"There should definitely be regulations on who owns farmland," says Professor John Peck, who runs an organisation called Family Farm Defenders, which campaigns for more small, family-owned farms in the US.
"We should not have hedge fund managers dictating farmland prices in the US."
Food crisis
The value of agricultural land in the US has doubled over the past decade to $2,140 (£1,350) an acre, according to the US Department of Agriculture.
The price of food has also been rising because of an increasing global population and growing demand for higher value products, such as meat, from a growing middle class in developing Asia.
Professor Peck says people "speculating" by buying farmland are exacerbating this trend.
"We cannot have another food crisis," he says.
"This farmland land rush that's going on is the second wave food crisis waiting to happen."
Mr Conrad says that in theory it should have the opposite effect.
"We are bringing capital and technology to the sector," he says.
"This will allow farming to become more efficient, produce greater supply and lead to lower food prices."
Rural development
The United Nations has been examining the practice of selling farmland to investors.
The UN Special Rapporteur on the Right to Food, Olivier De Schutter, says it raises a serious question for rich nations.
"It can be very tempting to sell off the land for a very good price, but it all depends on which kind of future we want for agriculture," he says.
"Do we want this to be only large scale plantations dominated by very large corporations, or do we want to preserve the function of small farms in contributing to rural development?"