Iraq increases oil reserves by 24%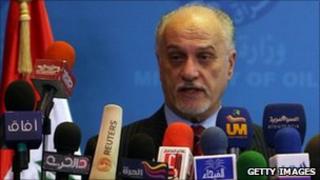 Iraq has raised the level of the oil reserves it claims to own by 24% in its first revision since Saddam Hussein fell from power.
The country has 143.1bn barrels of known and extractible oil, up from the 115bn barrels previously estimated.
If correct, the revision means that Iraq now has bigger oil reserves than its neighbour Iran.
Under Saddam Hussein, sanctions and political isolation meant little new exploratory work was undertaken.
However, since he was toppled in 2003, Iraq has issued two rounds of international oil licences, and launched a big step-up in exploration efforts in the last two years.
Oil dependence
Announcing the new figures, the Iraqi oil minister, Hussein al-Shahristani, said he expected "other increases of even these fixed reserves" as further exploration yields more results.
"This is fairly significant," says David Hunter, analyst at M&C Energy Group. "You have to bear in mind that 80% of the Iraqi economy is based on oil."
The Iraqi oil minister also said that his country would now officially inform the Organisation of Petroleum Exporting Countries (Opec) of its findings, so that the new reserves figure can obtain international recognition.
"There may be a political angle here," says Mr Hunter, who suggests that Iraq may be pushing for a bigger share of Opec's oil production.
Opec, which controls 40% of global production, sets limits on the amount of oil its members should produce, in order to control the oil price.
Lacking infrastructure
However, Iraq is currently exempted from Opec's system of quotas, while it struggles to rebuild its oil industry.
Iraq's oil production is only about 2.5 million barrels per day.
Opec is not expected to reimpose a quota on Iraq, until it has achieved output of about four million barrels - equivalent to neighbouring Iran.
"Oil production took a huge hit because of the conflict, and then the insurgency," notes Mr Hunter.
"The problems haven't gone away with respect to the security issues and getting the stuff out of the ground."
But Mr Hunter notes that a recent IMF report was quite positive on how investment in the country is fairing.
Iraq aims to increase its oil exports to 10-12 million barrels per day in the next five to 10 years, but this will require sustained investment in infrastructure to extract and transport the crude.
Biggest oilfield
The new proven reserves figure excludes oil located in the autonomous province of Kurdistan in the north of the country, according to the oil minister.
"The Kurdish regional government did not supply us with the latest developments of their activities," complained Mr al-Shahristani.
"We are surprised that they supply oil companies with this information, but do not inform the oil ministry or the federal government."
The reserves are mainly located in the Shia-dominated south of the country. Iraq's biggest oilfield - West Qurna - is the world's second largest, with 43bn barrels, according to the oil minister.
He said that a further 33.5 billion barrels of oil are known to exist, but are unrecoverable.
League table
If confirmed by Opec, the proven reserves would put Iraq ahead of Iran, but still in fourth place globally.
However, the reserves of second-place Venezuela and third-place Canada rely on unconventional oil sources, such as tar sands - almost exclusively so in Canada's case.
Tar sands are only economical to extract at a high oil price.
Moreover, some sources put Venezuela's oil reserves much lower than the 211 billion barrels stated by Opec.
First place is held by Saudi Arabia, with 264 billion barrels.