Public sector pensions report explained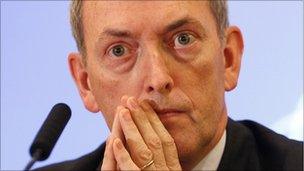 A report into the future of pensions for teachers, nurses and other public sector workers has recommended key changes to provision as well as the length of employees' working lives.
Chancellor George Osborne has said that the projected rise in the cost to taxpayers of public sector pensions is "unsustainable".
So the coalition government set up a commission, led by former cabinet minister Lord Hutton, to consider the options for short and long-term reform of the system.
Related Internet Links
The BBC is not responsible for the content of external sites.