Public sector pensions report explained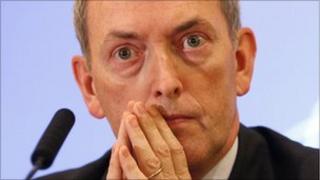 A report into the future of pensions for teachers, nurses and other public sector workers has recommended key changes to provision as well as the length of employees' working lives.
Chancellor George Osborne has said that the projected rise in the cost to taxpayers of public sector pensions is "unsustainable".
So the coalition government set up a commission, led by former cabinet minister Lord Hutton, to consider the options for short and long-term reform of the system.
The full report, as well as Lord Hutton's interim report, has now been published ahead of the Budget on 23 March.
Which pensions has the commission been looking at?
A range of pension schemes has been studied by the commission.
They are the Principal Civil Service Pension Scheme and its equivalent in Northern Ireland, the Armed Forces Pension Scheme, the NHS Pension Scheme, the NHS Superannuation Scheme in Scotland, and the Health and Personal Social Services Northern Ireland Superannuation Scheme.
For teachers, it covers the Teachers' Pension Scheme in England and Wales, as well as the Scottish Teachers' Superannuation Scheme and the Northern Ireland Teachers' Superannuation Scheme.
The Local Government Pension Scheme in England and Wales, as well as its equivalents in Scotland and Northern Ireland, are on the list, as are the Police Pension Scheme, the Firefighters' Pension Scheme, and the UK Atomic Energy Authority Pension Schemes.
The Judicial Pensions Scheme, the Department for International Development's Overseas Superannuation Scheme, the Research Council's Pension Schemes and a number of smaller schemes complete the list.
That is quite a list. How much does it cost?
According to the report, public service schemes paid out £32bn in 2008-09, which was about two-thirds of the cost of the basic state pension.
The Office for Budget Responsibility (OBR) suggested that the gap between contributions and pensions in payment would double over the next four years to £9bn.
This is one of the issues that the commission has been considering.
So how does Lord Hutton suggest this should be tackled?
The most significant recommendation is that existing pensions should be changed from a final-salary basis, to a pay-out based on average pay over workers' careers.
Lord Hutton says this would be possible to carry out by the end of this Parliament, in 2015. However, the switch could take longer for some schemes, such as the police and armed forces pension schemes.
What else does he suggest?
Arguably as important as the career average plan is the recommendation to raise the age at which people are entitled to draw their pension to the same as the state pension, as people live for longer. Plans are for the state pension age to reach 66 for both men and women by April 2020, and eventually to 68.
Uniformed services - the armed forces, police and firefighters - should see their pension age rise to 60, Lord Hutton says.
In addition, there should be a cap on the cost of public sector pensions to the taxpayer. The schemes should also be made simpler, need more independent oversight, and employees should be involved more in decisions about how the schemes are run, he says.
How else could the cost of pensions be cut?
Public sector pensions are already changing.
In his interim report, Lord Hutton pointed out that the cost of public sector pensions was dropping by 25% already.
This was the result of pensions in payment being tagged to the Consumer Prices Index (CPI) measure of inflation, rather that the Retail Prices Index (RPI) which is traditionally higher. The pension age has also been raised to 65 for most new recruits in many schemes.
With more job losses to come and a pay freeze in place, the cost will continue to fall.
The government has already accepted a previous recommendation of Lord Hutton that public servants should soon pay higher contributions.
Who would be hardest hit?
Nobody in public sector pension schemes is likely to get a higher pension if these proposals are implemented.
The hardest hit, according to accountants, would be middle and senior management rising through the ranks. The lowest paid, and those close to retirement should be affected the least.
"Consider a newly appointed NHS consultant or a secondary school year-head in their mid-30s," says Andrew Cawley, head of pensions at KPMG.
"In order to obtain the full value of retirement benefits they would have expected when they joined the public sector, they may have to save 20% or more of pay to compensate for a raft of pensions changes already underway and the likely outcome of Lord Hutton's final report."
Isn't it true that these schemes are just too generous to afford?
Lord Hutton denied this in his interim report, saying that "there is no evidence that pay is lower for public sector workers to reflect higher levels of pension provision".
Although 85% of public service employees contribute to a pension, he said that these pensions were far from "gold-plated", with the average pension in payment currently at a "modest" £7,800 a year. Around half of public service pensioners received less than £5,600 a year.
Some private sector schemes are worse than this - with only 35% of workers signing up for a pension - but this is a problem for the private sector and not the public sector.
As a nurse or a teacher, is this going to affect the pension I have already built up?
No, existing accrued pension is protected under the remit of Lord Hutton's commission. The final-salary link for pensions built up until any change comes into force should also be maintained, Lord Hutton says.
Hang on, I thought John Hutton was a Labour man?
He is, as a former Business Secretary and Work and Pensions Secretary in the last Labour government.
He stood down as an MP at the last election.
Mr Osborne said that Lord Hutton would be "clear and unbiased", but his appointment has added an extra political dimension to this report.