New bank bail-out risk, New Economics Foundation warns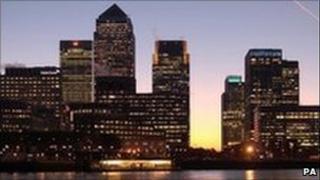 The UK's banks are having to borrow billions of pounds a month and face a growing funding gap, according to the New Economics Foundation (NEF).
The think tank says that by next year banks will face a £25bn funding gap and that could force them to seek more support from the state.
It says the cost of propping up the banking sector is £1.2 trillion.
Its report, Where did our money go?, says there has been a shocking lack of information on how money has been used.
It also says that new lending to households and firms has stagnated and that interest rates for these borrowers is higher than it was before the economic crisis.
The NEF calls for urgent reform of the sector and warns that the results of the current inquiries - such as the Independent Commission on Banking (ICB), which began its work last Friday - will come too late.
The ICB is expected to produce its report next September.
The NEF's report comes as banks are coming under growing pressure to put aside more cash to boost their capital strength.
The Basel III capital rules will force banks to increase the buffer cash they hold.
Tony Greenham, head of the finance and business programme at the NEF, said: "The public have already paid for the failure of the banks twice, first by bailing them out and then by suffering a programme of drastic cuts to public services to appease the financial markets."
He says urgent reforms are needed, including splitting retail operations from more risky investment banking and breaking up "too-big-to-fail" institutions.