IMF says Iraq has made good progress with its economy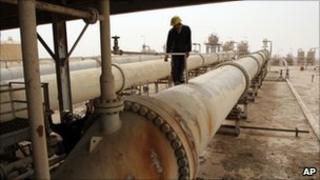 The International Monetary Fund (IMF) has praised Iraq for making "good progress" in reconstructing its economy.
It commended it for maintaining macroeconomic stability in the face of difficult security conditions.
The IMF also gave the go-ahead for a $741m (£469m) loan to Iraq.
The money is part of a previously agreed $3.7bn loan programme designed to help the country rebuild its ravaged infrastructure.
The loan is the second instalment of a 24-month loan the IMF awarded to Iraq in February.
The organisation said in a statement: "Iraq has continued to make good progress in rebuilding key economic institutions and maintaining macroeconomic stability, under very difficult circumstances."
The IMF has lent smaller amounts before, loans that came with the conditions of removing subsidies from manufacturers and farmers.
Iraq relies on oil revenues for as much as 90% of its income and needs funds to rebuild after years of conflict and insurgency following the 2003 US-led invasion.