US consumer spending and incomes rise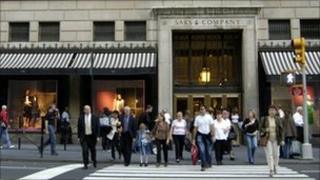 Consumers in the US both earned and spent more in August, according to the US Commerce Department.
Personal income increased by 0.5%, more than double the pace of growth in July.
Figures also showed that consumer spending in August rose by 0.4%, the same increase as July and slightly ahead of analysts' expectations.
The numbers are consistent with the latest figures for overall economic growth and boost hopes of a continuing recovery.
Consumer spending data is of high importance as it accounts for some 70% of the US economy.
Other figures released on Friday included a measure of US manufacturing and one for inflation.
Both showed muted activity.
The Institute for Supply Management's index showed growth slowed last month after expanding for 14 months.
The index for September slipped to 54.4 from 56.3 and employment in the sector also fell.
Meanwhile, US inflation remains subdued.
The Federal Reserve's preferred measure of consumer inflation, the personal consumption expenditures price index (PCE) - excluding food and energy - rose by only 0.1% for the fourth month in a row.
Growth boost
Last week, the US Federal Reserve warned that underlying inflation was lower than it wanted.
It said it was ready to pump more money into the economy to support growth and stop deflation.
On Friday, New York Federal Reserve Bank president, William Dudley, said the Federal Reserve might need to take more action to boost growth unless the economic outlook improved.
He said: "Further action is likely to be warranted unless the economic outlook evolves in such a way that makes me more confident that we will see better outcomes for both employment and inflation before long."
The latest numbers are consistent with the latest revision of US growth figures, which was released on Thursday.
These showed the US economy growing at an annualised rate of 1.7% in the second quarter of the year, up from an earlier estimate of 1.6%.
However, the figure still marked a sharp slowdown from the growth rate of 3.7% recorded in the first quarter of 2010.