Peugeot shows off diesel hybrid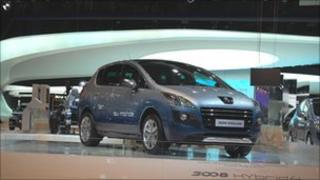 The world's first production-ready passenger car powered by both a diesel engine and an electric motor will be shown to the public this Saturday.
The Peugeot 3008 Hybrid 4, revealed at the Paris motor show, is powered by a 163 horsepower diesel engine that drives the front wheels.
In addition, it has a 37 horsepower electric engine that powers the rears.
The car emits less than 100 grammes of carbon dioxide per kilometre, Peugeot says.
'Too expensive'
Peugeot's 3008 diesel-electric hybrid is noteworthy, but not necessarily because of any revolutionary technology.
Technically, anyone could have done what Peugeot has done, industry observers say, namely combining frugal diesel engines with battery power in order to cut overall emissions.
Indeed, many other carmakers have previously shown similar concepts, indicating that they have been looking into the possibility of producing diesel hybrids in the future.
So far, however, rivals have steered clear of the solution, largely because it is deemed too expensive, according to Didier Leroy, president of Toyota Motor Europe.
"We have diesel hybrids for light trucks," he tells BBC News in an interview, but he insists the additional cost of a diesel does not deliver sufficient efficiency improvements for the money.
Moreover, he adds, diesel hybrids are not as smooth to drive as petrol hybrids.
High cost car
Diesel engines tend to be more expensive than petrol engines, though in return they tend to be less thirsty and emit less carbon dioxide.
A price for the car has yet to be revealed, but it is expected to cost about 30,000 euros (£25,985), about 10,000 euros more than the cheapest petrol-only version.
It is expected to arrive in the showrooms during spring 2011.
PSA Peugeot Citroen executives believe customers will be ready to pay a premium for greater fuel efficiency.
The technology may also be used in other Peugeot and Citroen models, the company says.