BMW car recall being resolved 'quickly' executive says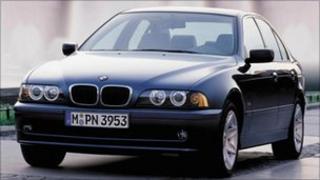 BMW is working "quickly" to resolve problems that have caused a recall about 350,000 luxury cars worldwide.
Rolls-Royce chairman and BMW executive Ian Robertson told the BBC the firm is "resolving the situation quickly".
The German firm said the recall was due to a fault with the power-braking system but the cars were not unsafe.
The recall affects V8 and V12-powered BMW 5 Series, 6 Series, 7 Series, and Rolls-Royce models produced between July 2001 and November 2009.
Of the total, 11,427 cars - including 905 Rolls-Royces - are in the UK, and 198,000 in the US.
Globally, 348,000 BMWs are affected, plus a further 5,800 Rolls-Royces.
'Premium brand'
"We take these issues very seriously," said Mr Robertson, a member of BMW Group's board of management in charge of sales and marketing, and chairman of Rolls-Royce Motor Cars.
Speaking to the BBC at the Paris Motor Show, he said that he hoped the defect would not discourage people from buying their cars.
"I think we're behaving in a way that people would expect of a premium brand," he said.
"I think most manufacturers that are here in Paris today have one time or another had a recall. It is how you deal with it that is important."
No accidents
A leak may develop in the power braking system of the affected cars, potentially causing a vacuum loss and consequent reduction of power braking assistance, according to a statement from the company.
However, mechanical braking is still available to slow and stop the vehicle, and there have been no reported accidents or injuries.
"You get a slight reduction in braking. You do not lose it," said Mr Robertson.
"We are dealing with very complex products, but at the same time we have very robust systems."
In the UK, concerned BMW have been advised to contact the BMW customer services on 0800 325600.
'Voluntary' decision
A BMW spokesman told the BBC that the problem was identified via feedback from routine vehicle servicing, and that the recall is entirely voluntary.
BMW's share price dropped 4.2% following the news, to below 50 euros.
However, the company's stock remains well up for the year, having rallied from a price of 30 euros in March.
The news comes a day after the US National Highway Traffic Safety Administration said it was investigating a potential power steering problem with the Mini - another brand owned by BMW.
It also comes a day after BMW's chairman, Norbert Reithofer, had his contract extended by six years.