Mortgage equity still increasing, Bank of England says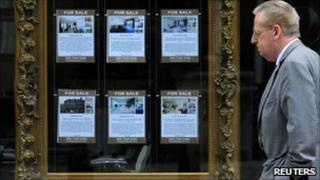 Homeowners are still increasing their financial stake in their homes.
Figures from the Bank of England show that homeowners' equity rose by another £6.2bn in the second quarter of 2010.
From July 1998 to March 2008 homeowners had borrowed an extra £328bn against the rising value of their homes, in a process called equity withdrawal.
Since then they have been repaying mortgage debt and have been forced by lenders to put down much larger deposits when buying a home.
"The significant downward revision of the first quarter figure and the more negative still second quarter figure show definitively that the British public continues to batten down the hatches and pay down its debt," said David Smith at property consultants Carter Jonas.
"Just as we are seeing a net repayment of unsecured debt, so we are seeing secured debt also being whittled down and at a faster pace than before.
"People are doing the exact opposite of what Charlie Bean and the Bank of England would have them do, namely spend," he added.
After the credit crunch gripped the UK banking system in the middle of 2008, a combination of falling house prices, a desire to reduce personal debt, and the rationing of mortgage funds by lenders, all conspired to stop homeowners using their homes as a cash machine.
During the boom times, equity withdrawal was providing homeowners with the equivalent of a 9% post-tax boost to their incomes.
Now the process has reversed and about £44bn has been injected in homeowners' equity in the past two years.
This means homeowners are now using up the equivalent of 2.5% of their post-tax incomes to increase their equity.
Rationing eases
The level of mortgage rationing continues to ease gradually, according to the latest figures from the financial information service Moneyfacts.
11% of all deals on offer now require a downpayment of just 10% or less, a slightly higher proportion than a year ago.
However the proportion of deals needing a deposit of at least 25% has fallen to 52%.
A year ago 66% of all mortgages on offer required a deposit of at least that size.
"The number of products that only require a 10% deposit are still on the increase and has exceeded 200 products," said Darren Cook of Moneyfacts.
"There are now 206 mortgage products available at 90% LTV (loan to value), which is the highest since December 2008.
"It is encouraging for first time buyers that we are seeing availability increase at the top end, but mortgages with small deposits still come with a higher rate of interest," he pointed out.