No compensation for Lehman-backed products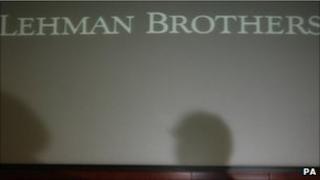 Investors in some products backed by the collapsed US bank Lehman Brothers are likely to miss out on millions of pounds in compensation.
More than 2,000 people who put money into so-called "capital at risk" products sold by some financial companies have been seeking refunds.
But the Financial Services Compensation Scheme (FSCS) has concluded that sales brochures made the risks clear.
A group representing investors described the decision as "astounding".
Collapse
The case surrounds complicated products sold by Arc Capital and Income (ACI), based in London, NDF and Defined Returns Ltd (DRL), all of which have now gone into administration.
Whereas investors in some structured products are likely to get compensation, those who invested in "capital at risk" products are unlikely to do so.
"Following our review, we are satisfied that the relevant marketing materials provided adequate and appropriate warnings that there was a risk to investors' capital if the organisation backing these investment products failed," said the FSCS.
"This risk is known as the counterparty risk and the firm backing these investment products was in each case part of the Lehman Brothers group.
"Investors will not therefore have claims arising from the materials generally.
"There have been a number of complex issues to resolve which required detailed review and external advice. While we understand that investors will be disappointed by this news, we are grateful for the patience shown whilst we investigated the position."
However, it has left the door slightly ajar, by saying that investors can make a claim and these will be dealt with on a case-by-case basis.
Peter Howard, of the Lehman Action Group, estimated that 2,050 people could lose a total of more than £25m as a result, and described the decision as astounding.
"We still think we have a strong case and so we shall keep going," he said.
He claimed that the literature sent to these investors was no clearer than that sent to people who were in line for compensation.