Eurozone unemployment stuck at 10.1% in August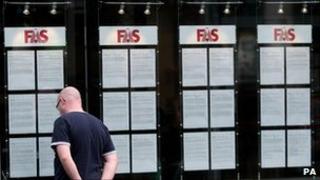 Unemployment in the eurozone remained stubbornly high at 10.1% in August, despite higher growth than expected.
According to Eurostat data, the seasonally adjusted unemployment rate remained unchanged from the previous month.
A total of 15.87m people were seeking work, according to the survey.
Crisis-struck Ireland saw its rate creep up from 13.8% to 13.9%. A poll in the Irish Times suggests 61% want Prime Minister Brian Cowen to resign.
Germany saw its unemployment rate dip slightly, to 6.8%, while Spain saw its rate jump again, to 20.5%.