UK manufacturing growth 'hits 10-month low'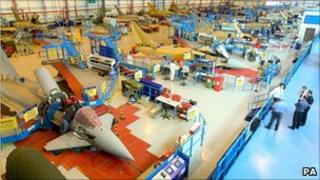 UK manufacturing grew at its slowest pace for 10 months in September, raising concerns about the strength of the recovery, a survey suggests.
The purchasing managers' index (PMI) fell to 53.4 last month, from a revised 53.7 in August.
It also showed export orders falling for the first time in more than a year.
Weak order books suggest that the "slowdown in production has further to run," said Rob Dobson at Markit, which helps compile the survey.
Despite the weak figure, Mr Dobson said that "some reassurance can be gained from the fact that growth has merely slowed from an exceptionally strong rate in the first half of 2010".
The manufacturing sector has now recouped more than 30% of the losses it sustained during the recession, he said.
"However, more worrying is the order book trend, with total orders rising only slightly following the marked downshift in August, and new export orders falling for the first time since June 2009.
"The PMI therefore suggests that companies have become more cautious in terms of capital spending."
The UK economy grew by 1.2% between April and June, but most economists expect growth to slow in the coming months, largely due to government spending cuts designed to reduce the budget deficit.