US economic growth revised up to 1.7%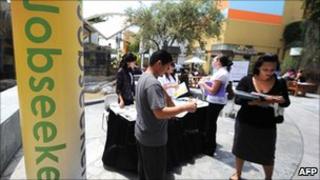 The US economy grew at an annualised rate of 1.7% between April and June, up from a previous estimate of 1.6%, the US Commerce Department has said.
Despite the upward revision, it still marks a sharp slowdown from the rate of 3.7% recorded in the previous quarter.
The latest revision of second quarter growth factored in more consumer spending than previously thought.
There are fears about the sluggish pace of the US economy, with the unemployment rate close to 10%.