Mortgages: Squeeze on home loans to continue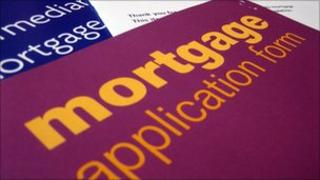 Banks are not expecting it to become any easier for householders to get a mortgage in the coming months, a Bank of England survey has found
The economic outlook is expected to constrain the availability of home loans in the next three months.
However, the Bank's Credit Conditions Survey found that the amount of secured credit available to householders had risen in the past quarter.
The amount of lending to businesses had also gone up in the past three months.
Demand
Some lenders suggested that there had been a larger increase in credit for small businesses, the Bank said.
Demand for home loans and credit card lending among householders dipped in the past three months, as did the proportion of people defaulting on credit.
The survey comes a day after the Bank's lending figures showed UK consumers repaid more unsecured debt than they took out in new loans in August.
Net consumer credit - which includes credit card borrowing, overdrafts and personal loans - fell by £120m, the biggest drop since November 2009.