Moody's downgrades Spain's credit rating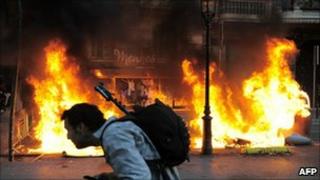 Spain has lost its last triple-A credit rating with the major rating agencies, following a downgrade from Moody's.
The agency downgraded Spanish debt by one level to Aa1, following similar moves by Fitch and Standard & Poor's earlier this year.
Moody's said the downgrade reflected the "considerable deterioration" in Spain's public finances.
The slow growth in the Spanish economy would also present challenges, it said.
Spain has been among the European countries to introduce tough austerity measures to tackle the problems in its public finances.
On Wednesday, Spanish unions held a general strike in protest against the cuts.
Growth worries
Despite the downgrade, Moody's said its outlook for Spain's creditworthiness was "stable", with the government expected to meet its deficit reduction targets over the next two years.
But the slow growth of the Spanish economy would make repairing the public finances more difficult, Moody's said.
Spain's economic growth is expected to average 1% a year over the next few years, Moody's lead analyst for Spain, Kathrin Muehlbronner said.
That compares with growth rates of 2% for the UK, and between 1.5% and 2% for German and France.
Spain's borrowing costs are currently nearly two percentage points higher than the borrowing costs for Germany - seen by lenders as Europe's safest economy.
But following the downgrade Spain's cost of borrowing on 10-year bonds actually fell slightly to 4.1%, reflecting relief among investors that the downgrade was not more severe.
However Spain's borrowing costs remain more than double their average rate for 2009, before this year's European debt crisis hit confidence.