Golf driving on despite tough economic times, says KPMG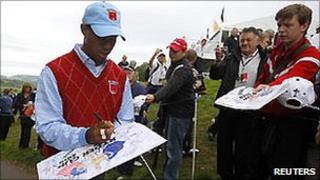 Professional tournament golf is proving to be "resilient" despite the economic downturn, a report says.
According to a golf industry survey from accountancy and business consultancy KPMG, during 2009 more than 6,000 players competed for total prize money of 476m euros ($647m; £410m).
The report comes as the Ryder Cup golf tournament between Europe and the US is due to start in Newport on Friday.
Tournament organisers put the event's value to the Welsh economy at £73m.
'Affluent middle class'
KPMG's report says that, despite the focus in the coming days being on Europe and the US, golf has strong potential to grow "in the rapidly emerging markets" of Asia and South America.
The report says that the sport in South America will be given a boost when the sport returns to the 2016 Olympics in Rio de Janeiro.
"The combination of significant media attention in Asia due to the success of professional golfers from countries such as [South] Korea, and an increasingly affluent middle class in populous Asian markets such as China and India, could unleash a huge drive in the sport," says KPMG's Andrea Sartori.
"Equally, South America and, more particularly, Brazil, which will host the 2016 Olympics, offers significant potential."
'Local demand'
Ms Sartori said Brazil's economic development could be matched over time by new golf courses and golfers.
"With three in every 10,000 people playing golf in South America and a total population of nearly 380 million, there appears to be a significant development opportunity to satisfy both local demand and international golf tourism demand," she added.
The KPMG report found that in the 32 tournament circuits analysed in 2009 there were 671 professional golf tournaments in 57 different countries.
The US and Europe continue to lead the field, with large prize-money funding.
The US PGA Tour remains the richest, with total prize money of 196.4m euros.
The European Tour has enjoyed substantial growth over the past 20 years, increasing its total prize money from 14m in 1989 to 135m in 2009.
The report also underlines golf's reputation as one of the most lucrative professional sports in the world - 62 players on the PGA Tour each won prize money of more than 1m euros in 2009.
One of the biggest earners is superstar Tiger Woods, which KPMG's report names as "the most marketable golfer of all time".
He is followed by Jack Nicklaus and Arnold Palmer (joint second), Greg Norman (fourth) and Gary Player (fifth).