Irish debt yields in new record despite better job data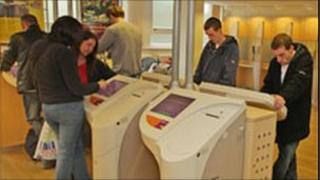 The cost of servicing Irish debt has hit a new record, despite data showing the first fall in unemployment since February.
The interest rate on Irish government debt has reached a high of 6.791%.
The rise comes as concerns about the country's economic health continue to nag at investors.
The latest official figures show a slight improvement in the unemployment rate, which fell back slightly for the first time since February.
Investors are focused on forthcoming news about the country's stricken Anglo Irish Bank, which needs another large injection of government money.
The country's Prime Minister, Brian Cowen, has been praised for taking early firm steps to tackle the Irish Republic's deficit.
Wind-down
But many problems remain, not least the final bill for winding down the nationalised Anglo Irish Bank.
Estimates for this are as high as 35bn euros (£30bn; $47.4bn) - more than 20% of Ireland's gross domestic product - and the details are expected to be given by the government on Thursday.
Further pressure looms from Europe in the form of new rules designed to clamp down on financial imprudence.
Snapshot
Meanwhile, there was a moderately positive snapshot of the economy from the Irish Central Statistics Office (COS), which said its standardised unemployment rate was 13.7% in September, down from 13.8% in August.
However, one month's data cannot be taken as a clear guide of economic health, and the rate is still higher than the 13.2% average for the second quarter of the year.
Other CSO data showed a fall in the number of people claiming benefits.
Fewer men and women are on the Live Register, which measures people either without work or with just part-time work who are drawing benefits.
That figure is just below 450,000, compared with August's count of 455,000.
The largest percentage decrease was in the professional group of workers, with 14% fewer on the register, followed by the clerical and secretarial group, where 11.8% fewer people registered.
Irish Finance Minister Brian Lenihan said last week that he wanted to see the September jobless figures as well as September exchequer returns, due on Monday, before making adjustments to his fiscal forecasts, which are due next month.