Compensation for 19,000 Keydata clients offered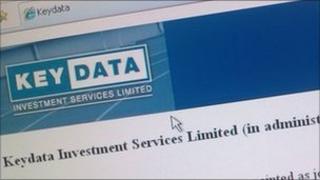 About 19,000 people who lost money after buying Lifemark bonds from the now insolvent investment firm Keydata have been offered compensation.
It will come from the Financial Services Compensation Scheme (FSCS).
The FSCS said Keydata's marketing material had not complied with the rules of the Financial Services Authority (FSA).
Keydata was declared insolvent last year, putting £350m of customers' investments in Lifemark in doubt.
"Following our investigations to learn more about the way in which Keydata promoted the Lifemark-backed bonds, and the products themselves, investors will be pleased to know that we expect to be able to compensate eligible claimants," said the FSCS.
"We are satisfied that the marketing materials produced by Keydata to promote the products did not comply with the Financial Services Authority's rules.
"This means that Keydata may owe a legal liability to investors in these products, allowing us to pay compensation to anyone who is eligible under the FSCS's compensation rules," it added.
Rescue plan
The thousands of Keydata customers who bought the bonds from Lifemark - a Luxembourg investment firm - will be sent forms to apply for compensation.
It will be limited to a maximum of £48,000 per person under the FSCS rules.
However the customers will have to wait until the end of October to find out how much money they will receive.
The Luxembourg provisional administrator of Lifemark has still not arranged a rescue plan for the company.
As a result the FSCS does not yet know how much the policies may still be worth and how much money the investors have lost.
"Once the restructuring position is clearer, we can commence compensating investors without delay," the FSCS said.
"In the meantime, once application forms have been returned to the FSCS, we will assess each claim to establish whether the investor is eligible for compensation under our rules and inform them accordingly."
An FSCS spokesperson explained that compensation would include not only income from the policies, which has not been paid since the start of the year, but also the capital invested when the policies were bought.
'Delighted'
The management of Keydata and Lifemark has been under investigation for months by the Serious Fraud Office and the FSA.
Geoff Hartnell, an independent financial advisor who has been prominent in the campaign for compensation, said he was delighted by the FSCS announcement.
"They have recognised that the marketing material not only misled investors but their advisors as well," he said.
Mr Hartnell estimated that between 600 and 1,000 investors might have put more than £50,000 each into the Lifemark bonds, while the others would have invested considerably less than the FSCS compensation limit.
There are a further four to five thousands investors with Lifemark policies but they are not covered by the FSCS offer as they are non-UK citizens who bought the bonds directly rather than via Keydata.