Bank of England 'should consider fresh cash injection'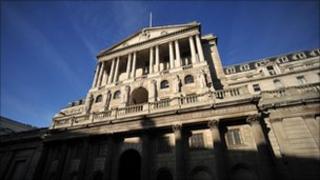 The Bank of England should consider pumping more money into the economy to help the recovery, according to a monetary policy committee (MPC) member.
External member Adam Posen advocated resuming the policy of quantitative easing (QE), under which the Bank has already pumped £200bn into the economy.
But one of his fellow MPC members, Andrew Sentance, has said there is no need for such a monetary boost.
Mr Sentance has called for a rate rise in the past four MPC meetings.
'Self-fulfilling prophecy'
In a speech to the Hull and Humber Chamber of Commerce, Mr Posen said that low interest rates and stimulus measures by the Bank would not secure the recovery on their own, but they did have an important role to play.
"Policymakers face a clear and sustained uphill battle, in which monetary easing has an ongoing role to play," he said.
"The risks that I believe we face now are ones of sustained low growth turning into a self-fulfilling prophecy.
"Inaction by central banks could ratify decisions both by businesses to lastingly shrink the economy's productive capacity, and by investors to avoid risk and prefer cash."
Many economists expect growth to slow in the coming months as a result of government spending cuts. The government will detail its cuts, designed to reduce the budget deficit, next month.
Mr Posen argued that sustained high inflation was not a threat, leaving the way open for further injections of cash into the financial system through QE.
"I believe that if we were to loosen monetary policy further, it must primarily take the form of large scale asset purchases," he said.
Changing interest rates, or making commitments to keep them low, would only have a marginal impact, he argued.
Mr Posen admitted that his speech, which BBC economics editor Stephanie Flanders described as "unusually forthright", was likely to trigger considerable debate within the MPC, which voted to keep policy unchanged at its most recent meeting.
Mr Posen's speech comes after the US Federal Reserve indicated in its most recent statement that it was open to the possibility of further stimulus measures for the US economy.
Rate debate
Fellow MPC member Andrew Sentence has consistently highlighted the risk of inflation, and has voted to raise interest rates in the past four MPC meetings.
And in an interview with the Nottingham Post newspaper, Mr Sentance said there was "no need" to restart QE.
"I actually think we should be preparing the ground for gradually increasing interest rates in a measured way to reflect the fact that the economy has improved and the inflation situation is not where we would like it to be," he said.
The latest inflation figures showed the Consumer Prices Index inflation at 3.1% in August, above the government target of 2%.
"Doing more QE would give the wrong impression on the state of the economy. We need to create a perspective of getting back to normality," Mr Sentance said.