Michelin to raise 1.2bn euros to fund expansion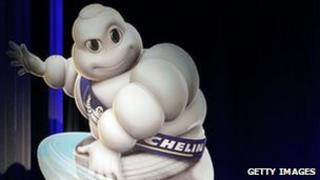 Michelin shares closed down 10.21% after the tyre maker unveiled a 1.2bn euros ($1.6bn; £1bn) rights issue.
Michel Rollier, chief executive of Michelin, announced the fund-raising as he declared that the recession in the global automotive industry was over.
The money will be used to fund an investment programme, he said.
But investors were unnerved by the 2-for-11 cash call at a deeply discounted price of 45 euros, compared with Michelin's share price of 60 euros.
Despite the sharp fall, shares in the French company closed at 58.6 euros, well above the new offer price.
The company is predicting big growth in sales from emerging markets, and says it needs to open one factory a year for the next few years to meet demand.
Michelin is already due to open three new factories in 2012.
"The opportunities are there and Michelin is now ready to seize them," Mr Rollier said . "The crisis is over."
His positive outlook follows two consecutive years of falling profits.