German consumer confidence hits three-year high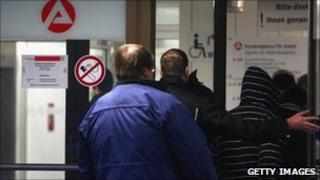 Germany's economic recovery and falling unemployment has lifted consumer confidence to a three-year high, a survey has said.
The GfK market research group said its forward-looking confidence index had risen to 4.9 in October from a revised 4.3 in September.
The survey, conducted for the European Commission, was ahead of economists' forecasts of 4.2.
GfK said the results showed "a sharp rise in economic expectations".
"Consumers currently expect the economic upturn to continue in the coming months," said GfK in a statement.
"In this context, the public clearly sees a realistic prospect of income growth, which is itself helping to stimulate the propensity to buy."
The German economy recorded strong growth in the first half of 2010, and the government is expected to raise its official growth forecast of 1.4% for 2010 in October.
German unemployment declined for a 14th month in August.
"Over the past years, the GfK index has outperformed all other consumer confidence indicators as best predictor of private consumption," ING senior economist Carsten Brzeski said.
"Today's reading confirms our view of a further broadening of the German recovery," he said.