UK economic growth unrevised at 1.2%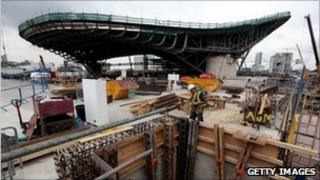 Official figures for UK economic growth have confirmed that the economy grew by 1.2% between April and June.
However, the Office for National Statistics (ONS) did revise upwards the growth figure for the first three months of the year, to 0.4% from 0.3%.
The 1.2% second-quarter growth represents the fastest quarterly growth since the first three months of 2001.
But most economists do not expect this level of growth to continue, largely due to government spending cuts.
One of the main factors behind the strong growth between April and June was increased output in the construction sector, which grew by 9.5% during the period, revised up from 8.5% in the previous estimate.
The ONS also revised down slightly its GDP figure for 2009, to a 5% contraction from a 4.9% contraction.
It also said the UK trade deficit increased to £10.9bn during the quarter, up from £10.3bn in the previous three months.
The government will announce details of its spending cuts, which are designed to reduce the budget deficit, next month.
These are expected to have a negative impact on growth in the short term.
On Monday, the International Monetary Fund (IMF) said the UK economy was "on the mend" and backed the coalition government deficit reduction plan.
The IMF said the plan was "essential" in supporting the UK's debt position, and added it "supported a balanced recovery".