Coca-Cola given approval to buy North American bottler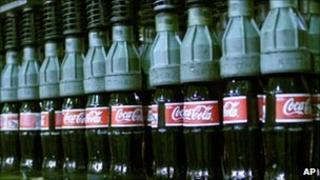 Coca-Cola has been given regulatory approval to purchase its largest North American bottler Coca-Cola Enterprises for $3.4bn (£2.1bn).
The bottler also handles filling and distributing for soft drinks rival Dr Pepper Snapple Group.
US and Canadian regulators have insisted on a "firewall" to restrict Coca-Cola's access to rivals' confidential information.
Similar terms were imposed on PepsiCo when it bought two major bottlers.
The purchase is also subject to approval by Coca-Cola Enterprises' shareholders, who are scheduled to vote on 1 October, 2010.
"The thoughtful and disciplined planning process for our new North American business structure will enable us to operate as one strong, aligned business system, with increased operating effectiveness and efficiency," said Muhtar Kent, chairman and chief executive of Coca-Cola.