Savers 'dealing with debts first'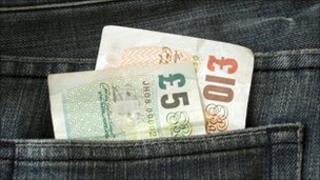 People are continuing to pay off debts rather than add to savings while interest rates remain low, according to research.
The highest earners were the only exception to falling savings levels in the UK in September, according to the Markit UK Household Finance Index.
The poll also found that lower levels of debt had been recorded for the eighth month in a row.
Separate research by Lloyds TSB found that savings had peaked in 2006.
It said that the inflow of savings into the UK household sector hit £134bn four years ago, but dropped away during the economic downturn.
'Worries'
The Markit research found that fears over tough economic times ahead meant there was a desire among householders to pay down debts.
A record low Bank rate of 0.5% and the strain on household budgets from rising prices of essentials such as food had also led to lower savings in all groups, except those earning more than £57,571 a year.
"Concerns over pay and job security remain at the forefront of people's minds, while stubbornly high inflation and an impending VAT rise are becoming increasingly difficult to ignore," said Markit economist Tim Moore.
"Those working in the public sector reported the greatest degree of pessimism, perhaps because of a sense of unease ahead of next month's government spending review.
"Households have responded to the uncertain outlook by paying down debt, reining in their appetite for unsecured credit and delaying major purchases."
The Lloyds TSB research suggested that the past decade had been a popular period for savings - driven by deposit-based savings and Individual Savings Accounts (Isas).
"The substantial rise of new household savings over the past 10 years reflects the extent to which savers have worked hard to build their nest-egg," said Suren Thiru, economist at Lloyds TSB.
However, he added: "The level of new households' savings has weakened somewhat over recent years as a consequence of the financial crisis."
Mark Vincent, an independent financial adviser with Claisse St Vincent, said that different approaches were required for different customers to find suitable returns for savings and investments.
One factor was to consider the level of risk customers were willing to take, and to assess this before looking at specific products.
Read a selection of your comments