US new home sales in August among worst on record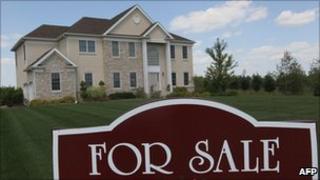 The number of new homes sold in the US in August remained at a near-record low as unemployment continued to bite.
The Department of Commerce said that last month's seasonally-adjusted annual sales pace was 288,000, virtually unchanged from July.
July's sales would have been the worst on record, but the figures were adjusted upwards.
The only time sales were slower was in May, when the sales pace was 282,000, the worst since 1963.
The August figure marked a 29% fall from the same month a year earlier.
High unemployment, tight credit, and uncertainty about house prices mean consumers remain cautious.
The government introduced tax credits earlier in the year, which added a temporary boost to the market. But the credits expired in April.
The constructions of new homes is up 25% from where the market reached its nadir in April 2009.
However, the number of new-builds is still 74% below the peak in January 2006.
On Thursday, the National Association of Realtors said that sales of previously-owned homes in the US rose in August by 7.6% to 4.13m.
But that was from a low base - July's revised annualised rate of 3.84 million was the lowest since 1997.