Bond markets fret at eurozone divergence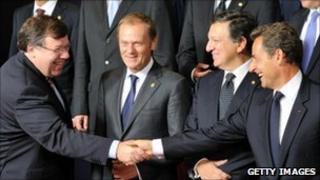 Irish and Portuguese government bonds have hit new lows after data pointed to growing divergence within the eurozone.
The difference in yield between the two countries' 10-year bonds and those of Germany have hit all-time highs of 4.5% and 4.3% respectively.
This yield "spread" indicates that markets see the two as much riskier than ultra-safe borrower Germany.
Meanwhile, German business confidence hit a two-year high this month, while French growth was revised up.
The German business climate index published by think tank Ifo rose to 106.8, its highest since July 2007, and well above market expectations.
In France, the national statistics institute revised second-quarter growth up to 0.7%, from 0.6% previously.
Divergence
The data provides further evidence of a growing economic divergence within the eurozone between the core countries - France and Germany - and those worst affected by the debt crisis.
German GDP grew at 2.2% in the second quarter of the year.
In contrast, Ireland's GDP shrank a surprise 1.2% in the second quarter, while crisis-stricken Greece's recession deepened a further 1.5%.
A recent manufacturing and service sector survey suggested that the eurozone suffered a sharp slowdown in the last month, led by a dip back into negative growth among weaker economies, including Spain and Italy.
In contrast, the same data suggested that French private sector output remains surprisingly robust, while Germany is also prospering better than the eurozone average.
Budget woes
Markets are worried by the scale of spending cuts and tax rises needed in the Irish Republic, Portugal and Greece in order to get their public finances in order.
And some economists have raised doubts that - with household debt levels so high - private sector spending will pick up sufficiently to offset the government spending cuts.
If it does not, it will make austerity an uphill struggle, because slower growth would then mean lower tax revenues and higher unemployment benefit payments.
Portugal's minority government has failed to get support for its budget from the opposition Social Democratic Party, because they say the planned cuts will suffocate the economic recovery.
Meanwhile, Spain is next in line to make cuts, as it presented an outline budget on Friday that will help it cut its deficit from 11% to 6% of gross domestic product over two years.
The spread between Spanish and German government 10-year bonds is about 2%, much lower than for the Irish Republic, Portugal and Greece.