Spain's government approves 2011 austerity budget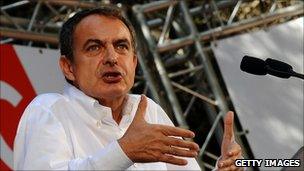 The Spanish government has approved an austerity budget, including a tax rise for the rich and 8% spending cuts.
Presenting the details, Finance Minister Elena Salgado described the outline 2011 budget as "austere".
Madrid has promised European counterparts to cut its deficit to 6% of its gross domestic product (GDP) next year, from 11.1% last year.
EU governments are all targeting maximum 3% deficits by 2013 in order to contain the continent's debt crisis.
The ruling Socialists are thought to have won the support of the Basque Nationalist Party for the budget - ensuring its successful passage through parliament - in return for more concessions over Basque regional autonomy.
The key provisions of the budget include:
overall spending cut of 7.7%, to 122bn euros ($164bn, £104bn)
departmental spending cuts of about 16%
government worker pay cut of 5%
tax rise for personal income above 120,000 euros.
The tax rise is expected to raise about 170bn-200bn euros.
Full details will be presented next week to the Spanish parliament, which will vote on the budget on Thursday.
The Spanish Prime Minister, Jose Luis Zapatero, has already implemented labour market reforms that make it cheaper and easier to lay off workers.
Unemployment in Spain stands at 20% - twice the EU average.
The government raised its forecast for unemployment next year to 19.3%, from 18.9% previously.
Spanish unions have called a general strike for Wednesday to protest against the labour reforms and spending cuts.
However, according to a recent poll in Spain's El Pais newspaper, only 9% of workers definitely intend to participate.
Other polls suggest most Spaniards are resigned to the difficult financial and economic constraints on what their government can do.
The government did not revise its prediction that the Spanish economy will continue to recover despite the austerity measures, with growth of 1.3% next year, and 2.5% in 2012.
But other European countries facing a public spending squeeze have seen their economies dipping back into negative growth.
Irish GDP shrank a surprise 1.2% in the second quarter, while crisis-stricken Greece's recession deepened a further 1.5%.
Some economists have raised doubts that - with household debt levels so high - private sector spending will pick up sufficiently to offset government spending cuts.
Recent data showed that the eurozone's services and manufacturing sectors suffered a sharp slowdown in September from what had been a brisk recovery so far this year.
The data suggested that - outside France and Germany - private sector output actually shrank over the last month, while the continuing fall in employment in the two sectors accelerated.