Merck shares hit after drug denied approval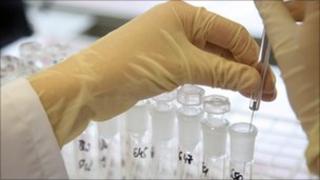 Shares in German drugs and chemicals group Merck have fallen after European regulators refused approval for a new multiple sclerosis (MS) treatment.
Merck shares fell 10% on Friday after the European Medicines Agency (EMA) said the benefits of Merck's cladribine drug did not outweigh the risks.
On Wednesday, rival drugmaker Novartis won backing in US for its own MS pill.
Merck said it was considering its next step, and did not rule out an appeal against the EMA's decision.
The company expects a decision from the US Food and Drug Administration over a marketing approval for cladribine later this year.
But the EMA's decision is seen as a blow to Merck in the race for a slice of the huge US market for MS treatment.