Arsenal property deals send profits to record high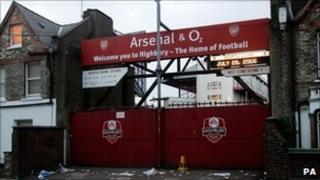 Arsenal Football Club has announced record pre-tax profits of £56m.
The Premier League club also said it had paid off all debt on its Highbury Square property development of flats, built on the ground of its old stadium.
Figures covering the year to May 2010 showed that pre-tax group profits went up by £10.5m compared with the previous 12 months.
Arsenal chief executive Ivan Gazidis said: "The group has made good progress in the last year."
The company said it had sold 362 private apartments at Highbury Square, the site of its former home ground.
Those and a social housing site nearby generated £156.9m revenue from property and allowed it to repay £129.6m of bank loans.
The overall level of group net debt had fallen from £297.7m last year to £135.6m.
Turnover grew from £313m to £379.9m.
Player sales
Operating profit before depreciation and player trading in the football business was £56.8m, down from £62.7m the year before after wage costs rose.
Profit from player trading was £13.6m, well above 2009's £2.9m, with the main contributions coming from the sales of Emmanuel Adebayor and Kolo Toure.
Commenting on the results for the year, Peter Hill-Wood, the club's non-executive chairman, said: "We now have a debt-free property business, which is accumulating surplus cash as further unit sales are made at Highbury Square, and which has three further property assets to realise over the next few years."
Matters were less clearly positive on the football side.
Mr Gazidis said: "The competitive landscape makes it ever tougher to achieve success on the field and standing still is simply not, and never has been, an option for the club.
"It is important that we continue to develop a vibrant and robust business with sufficient revenues to sustain success."