Russian business aviation takes off again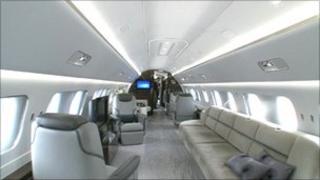 Cruising at an altitude of 200 metres over Moscow's ring road, you can tell the city's evening rush hour is about to begin.
Rush hour is a tiresome experience when you're stuck in a car - but much less so when observed from the comforts of an $8m (£5.1m) corporate helicopter, with its white leather seats and high-tech headphones that filter out the - already quite low - rotor noise.
We have taken off from one of the new heliports that have been built around the Russian capital to cater for the increasing number of wealthy Russians who can afford to take to the air to beat the traffic jams.
Difficult time
A country like Russia, with its huge distances, weak road infrastructure and underdeveloped commercial sector, seems tailor-made for private aviation.
And the industry was indeed booming for many years - despite a lack of infrastructure and many regulatory hurdles.
But then the financial crisis hit, and the rich business people who were the potential buyers of choppers and private jets were suddenly no longer quite as rich.
There have been reports of oligarchs who found themselves in such financial dire straits that they had to ground or even sell off their fleets.
For people like Alberto Ponti, whose job it is to sell AgustaWestland helicopters like the "Grand" we are flying in, life has been tough in recent years.
"The Russian market boomed till 2008, really opening the skies for our products," he says.
"Then the economic turmoil impacted heavily on our sales. We suffered a lot. But things are slowly, very slowly improving."
Customer service
The Russian market as a whole could do with an uplift.
At a trade show in Moscow, manufacturers, brokers and charter companies are trying to generate new business.
There is a feeling of cautious optimism. But then the downturn was so sharp, the competition for the few remaining customers is so fierce things can probably only get better.
Alexander Evdokimov, who runs a charter company for executive jets and also runs the Jetexpo trade fair, thinks that the end of the boom has actually been good for the industry.
"Before the crisis, this was not a market, it was a bazaar," he says.
"The crisis brought rules to the Russian market. You had to think about your customers, about what price, what service are you offering."
Embraer's Luis Carlos Affonso is showing me around the cabin of the Brazilian company's Lineage 1000 corporate jet - a big plane that can go non-stop from Moscow to Tokyo and has enough space for a whole family of oligarchs plus their hangers-on.
All yours for just under $50m. It sold pretty well in Russia and neighbouring countries, but things have been quiet for a while.
Now he is seeing signs of a pick-up in activity in the market.
"In this crisis emerging economies are coming back faster than more mature markets," he says.
"So Russia is a very important market for us."
There are signs business is taking off again. At Vnukovo airport, Russia's main hub for private aviation, traffic is already back to pre-crisis levels.
Artem Pastukhov, the commercial director of the business terminal, expects a 10% growth in flights movements over the course of the next year.
Regulatory boost
An additional boost may come from the aviation authorities.
They have long struggled to keep pace with the breakneck development of the private aviation sector which did not exist 20 years ago.
High taxes and import duties have resulted in most of the 410-450 Russian-owned executive aircraft being registered outside the country.
However, the government is now moving to bring legislation in line with international standards.
From November, helicopters and other smaller aircraft will no longer have to wait up to three days for a flight permission.
For AgustaWestland's Alberto Ponti that is a big breakthrough - which he hopes will have a positive impact on sales.
However, even as the proud owner of your own helicopter you won't be able to fly over Moscow's city centre.
That remains a no-fly zone.
For more about business aviation and the Russian economy watch Russia Business Report on BBC World News this weekend: on Saturday, 25 September at 0430 GMT and 1730 GMT and on Sunday, 26 September at 1030 GMT and 2330 GMT.