Bank mortgage approvals dip again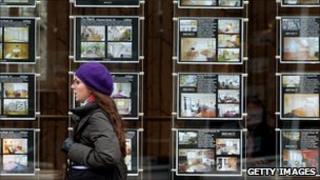 The number of mortgages approved by banks for home buyers fell in August for the third month in a row.
Banks approved 31,767 home loans, the lowest number so far this year, down from 34,219 in July, the British Bankers' Association (BBA) said.
The figures are another indication that the UK property market has reached a plateau.
Most surveys have shown that prices are no longer rising, while the number of completed sales also fell last month.
"Demand for mortgages continues to be weak despite more properties reportedly coming on to the market," said David Dooks of the BBA.
"Even with stable or falling house prices the current economic climate makes it unlikely that demand will pick up in the near future," he added.
The BBA covers all the main mortgage lenders, with the exception of the Nationwide building society.
The stagnation of new mortgage lending, including loans to borrowers who are not moving home but either changing lender or increasing their borrowing, is shown in the fact that total new mortgage lending by banks in August was nearly 8% lower than in August last year.
The number of home loans to house buyers was at its lowest since April last year.
Although banks and other lenders have been rationing their home loans severely since the onset of the credit crunch and the banking crisis in 2007, the BBA said the recent drop in new approvals reflected "low demand".
People are also reluctant to borrow on credit cards and via personal loans.
The number of purchases made in August on the credit cards of BBA members fell to 93.4m, less than the average of the previous six months.
And the amount of money lent as a personal loan was 12% lower than in August 2009.