Eurozone economy signals surprise slowdown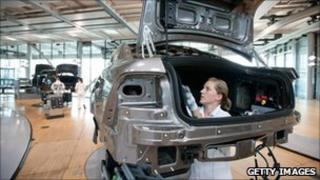 The brisk recovery in eurozone services and manufacturing cooled sharply in September, a survey has indicated.
The slowdown was particularly marked in the Mediterranean, including crisis-hit Greece, according to the purchasing managers index (PMI) put out by Markit.
France gave the strongest showing, with business confidence there well up.
Markit's composite eurozone index gave a reading of 53.8, the lowest in seven months and down from 56.2 in August, but still showing moderate expansion.
A reading above 50 indicates expansion. Markets, which had expected a level above 55, showed their disappointment as stocks gave up their opening gains.
Struggling Med
The data from Markit showed that the worst performance was in the eurozone countries outside France and Germany.
Markit's "non-core" composite index fell to 49.4, indicating a slight contraction for these countries, which include Portugal, Ireland, Greece, Spain and Italy, which have been hardest hit by the eurozone debt crisis.
"Ireland had been doing well, but is slipping back, and Greece's recession is deepening," said Markit's chief economist, Chris Williamson.
The Irish Republic's economy shrank a surprise 1.2% in the second quarter, according to separate data also released on Thursday.
"[The Markit survey data suggests] Spain and Italy - big countries that we need to get some momentum going in the recovery - may be running out of steam and... are also at risk of falling into a double dip recession," added Mr Williamson.
Markit's data also suggested that private sector employment in the non-core countries, which has already shown contraction in every month since the recession, shrank much more rapidly in September.
"This will make budget deficit targets even harder to hit," he said, as the countries would face falling tax revenues and bigger unemployment benefit bills.
Some analysts, such as US economist Paul Krugman, have argued that in the current environment of anaemic private sector spending, government austerity programmes may undermine growth, making them self-defeating.
Confidence up
The PMI data suggests that the eurozone will still register strong growth for the third quarter, but that the pace from now on may be slower.
According to Markit, the data is consistent with a third-quarter growth rate of 0.6%, but suggests a weaker 0.3% rate for the remainder of the year.
The quieter pace of expansion across the eurozone in September follows months of brisk recovery, as a revival in manufacturing and exports helped to drag the economy back from the depths of the 2008-09 recession.
The September slowdown was particularly marked in manufacturing, with the eurozone manufacturing PMI falling to an eight month low of 53.6.
But despite the weak data, Markit also revealed that business confidence continued to rise.
Growing divergence
Mr Williamson pointed to a growing divergence between the "core" countries of Germany, and particularly France, on the one hand, and the rest of the eurozone on the other.
"France and Germany have been creating jobs at the fastest rate in two years, while the periphery is contracting and losing jobs," he said.
French manufacturing in September was one of the few data points to beat expectations, while service sector business confidence rose strongly.
The optimistic tone was echoed in separate industrial confidence data released on Thursday by the French official statistics institute.
The manufacturing confidence index produced by INSEE rose one point to 98, slightly below its long-term average of 100.
"France has benefited from the feedthrough from manufacturing, like Germany," said Mr Williamson.
He also noted that France had a less aggressive austerity programme than other eurozone countries, and French consumer spending had held up well.
But with deepening problems in the rest of Europe, he fears the eurozone's 10% unemployment may even worsen.