Thailand 'falls behind' poorer neighbours on 3G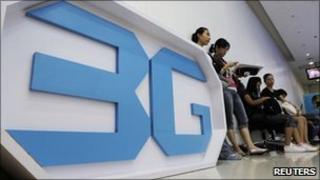 Thailand's latest attempt to auction 3G mobile licences has been blocked after requests from a state telecoms company.
The move appears to be another sign that Thailand is falling behind its poorer neighbours such as Cambodia and Laos when it comes to 3G technology.
It is one of the few countries in south east Asia yet to introduce third generation capabilities, which allow faster upload and download speeds.
At the same time, many Asian countries are introducing 4G technology.
'Last country'
The 3G licences would see private operators pay lower fees to state-owned firms than they do under existing contracts.
State firm CAT Telecom had argued that its interests would be damaged and that the National Telecommunications Commission did not have the authority to sell the licences, leading to courts ordering the regulator to halt the auction.
Thailand has been promoting 3G since 2003, but a combination of politics and legal challenges has held things up, says the BBC's Rachel Harvey in Bangkok.
Analysts say the latest move could delay the introduction of 3G services by a further two years.
"We're the very last country for this technology. Our neighbours like Laos and Cambodia are moving ahead of us," said Panyakit Chaovamu, an analyst at stockbrokers SICCO Securities in Bangkok.