China hits out over yuan criticism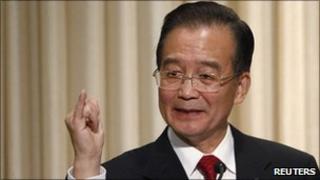 Chinese premier Wen Jiabao has hit out at critics of China's currency policy.
The US has threatened to penalise China, accusing it of deliberately undervaluing the yuan to give its companies an unfair trade advantage.
But Mr Wen told US business leaders that the yuan's exchange rate had no relation to the US trade deficit with China and should not be politicised.
Prime Minister Wen met US President Barack Obama in New York on Thursday.
However both men steered clear of a row over Beijing's currency policy, with President Obama saying that US-China cooperation had helped ease global financial turmoil.
Currency bill
In a speech on the sidelines of a United Nations global summit, Mr Wen said "the conditions for a major appreciation of the renminbi [yuan] do not exist."
"The main reason for the US trade deficit with China is not the renminbi exchange rate, but the structure of trade and investment between the two countries."
A House of Representatives committee is set to vote on Friday on a China currency bill that would punish China if it does not do more to let the yuan rise.
The full House is expected to vote on it next week, according to a Democratic aide.
"It is time for Congress to pass legislation that will give the administration leverage in its bilateral and multilateral negotiations with the Chinese government," House Speaker Nancy Pelosi said on Wednesday.
Earlier this week, President Obama said China's currency was "valued lower than market conditions would say it should be".
"So it gives them an advantage in trade. We are going to continue to insist that on this issue, and on all trade issues between us and China, that it's a two-way street."
Trade disputes
Currency is not the only point of tension between China and the US.
Beijing has also warned the US not to interfere in a territorial dispute over claims to the South China Sea, while China is also angry over US arms sales to its rival Taiwan.
But Mr Wen said: "I fully believe that all the disputes and friction in China-US trade at the moment can be resolved."
He added that China wanted a "strong and stable US, just as the US needs a strong, stable China".