Potash asks US court to block BHP takeover bid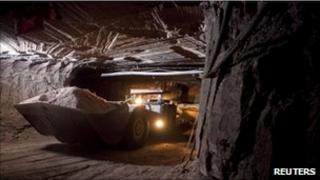 The Canadian fertiliser giant, Potash Corporation, has asked a US District Court in Chicago to block a hostile takeover bid from BHP Billiton.
The Anglo-Australian mining giant has offered $39bn (£26bn) for the firm.
Potash said that because of BHP's "false statements and half-truths", its shareholders lacked "clear and accurate information about BHP's intentions and the true value" of its shares.
BHP said it would contest the lawsuit, which was "entirely without merit".
Potash's shareholders "should have the opportunity to decide on the merits of our offer", it added.
Chinese interest
The lawsuit filed by Potash alleges that BHP violated US law by misrepresenting and failing to inform investors about material facts.
It also accuses BHP of engaging in fraudulent, deceptive and manipulative behaviour related to its offer.
Particular concern has been raised over plans BHP put forward to develop its own mine in the Saskatchewan area, where many of Potash's profits are made.
These plans were presented before BHP launched a bid, and Potash alleges this proposal was put forward deliberately to depress its share price.
There are also reports that Chinese investors have approached a Canadian pension fund about a possible bid.
Potash - the common name for various potassium compounds and potassium-bearing materials - is used for fertiliser production worldwide.
China is the world's second-biggest importer of the mineral, after India, giving it a motive for investing in the industry.
Earlier this week, Canadian Prime Minister Stephen Harper said his government could block a takeover if it was not a "net benefit" to Canada.
He was speaking as BHP's chief executive, Marius Kloppers, visited Canada to try and build support for the deal.