Pakistan increases its defence budget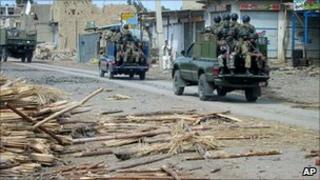 Pakistan has increased its defence budget by about $1.28bn (£810m), according to documents submitted to the International Monetary Fund (IMF).
The government says that the extra revenue has come from "development and non-development budgets" which have been cut by 50% and 20% respectively.
Correspondents say there is particular concern that the education budget may have been hit to pay for the increase.
It comes as the IMF has warned of rising inflation in Pakistan.
The changes were made before the first quarter of the current fiscal year ended.
Projected defence expenditure has been increased to $6.41bn (£4.08bn) from $5.14bn (£3.27bn) in the 2010-11 budget approved by parliament.
The announcement came in a report presented by the Pakistani government to the IMF.
Correspondents say that the government has been forced to make major changes in budget allocations because of extra expenses incurred by the military in providing a relief operation during the recent floods.
Experts also say that the army wants more cash in order to pay for another major offensive against the Taliban in the country's tribal areas.
Officials say that the report submitted to the IMF has not been formally approved by the cabinet or parliament.