Mortgage plan will force house prices down, CML warns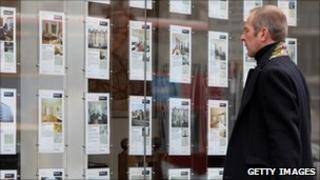 House prices will fall if the City regulator gets its way and restricts mortgage lending, the Council of Mortgage Lenders (CML) has warned.
The Financial Services Authority (FSA) is currently consulting on ways to stop "excessive" mortgage lending.
Its aim is to stop lenders offering mortgages to people who cannot prove they can repay their loans.
But the CML says the FSA has admitted its plan will lead to house prices falling.
"This is just one of a number of unintended consequences of the FSA's well-meaning but misguided proposals that the CML believes the UK's existing 11 million mortgage borrowers have every right to be concerned about," said the CML's director general Michael Coogan.
'Significant falls'
Mr Coogan was citing a footnote in the FSA's consultation document, which was published in July.
This said that economic modelling of the consequences of its proposals "did project significant falls in house prices from the reduction in lending".
"In addition, the impact of a drop in lending on house prices was also modelled using the Oxford Economic Forecasting model, another model of the global macroeconomy," the FSA document said.
"This gave similar house price impacts to those from [the National Institute of Economic and Social Research]", the document added.
Debt
The FSA is worried that despite the banking crisis and economic downturn, and the current severe rationing of mortgages, too many people are still being given home loans even though they cannot show that they can afford them.
In July it pointed out that so-called non-verified loans still made up 43% of all home loans granted in the first three months of 2010.
The regulator argued that this practice exposed the borrowers to debt in their eagerness to buy a home.
And the FSA said its own research had shown that almost half of households either had no money left, or had a shortfall, after they had paid their monthly mortgage bill and deducted living costs from their income.
"We are keen to ensure that people who can afford a mortgage can get one, and also to protect vulnerable consumers by making sure that anyone who does take on a mortgage can afford to pay it back," said Sheila Nicoll, director of conduct policy at the FSA.
"We have made it very clear that in introducing any new requirements and in developing appropriate transitional arrangements we will be sensitive to economic conditions and any potential impact on the mortgage market."
Golden age over?
Despite this the mortgage industry has been alarmed at the prospect of excessive new formal restrictions, such as being obliged to demand that borrowers prove they can pay.
"The unintended consequences of new mortgage regulation are likely to stifle innovation and opportunity," said Mr Coogan.
"Whether for first-time buyers, movers, borrowers who want to access their equity, those whose personal circumstances are different to the 'norm', private investors in residential property or funders of social housing," he said.
Mr Coogan argued that if prices fell again, undermining the security houses gave lenders for loans already made, then mortgage rationing would continue and many more people would be locked out of home ownership.
"The golden age of home-ownership is over, for the moment," he added.