Royal Mail workers will get 10% of privatised business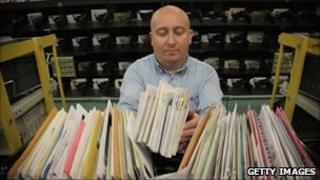 Royal Mail workers will be offered at least 10% of the business's shares if it is privatised.
The plan was announced by the Business Secretary, Vince Cable, at the Liberal Democrat annual conference in Liverpool.
The Communication Workers Union (CWU), which represents Royal Mail staff, is strongly opposed to privatisation.
If taken up, the workers' share would be the biggest of any privatised UK company for 25 years.
Mr Cable said the "engagement and participation" of the Royal Mail's staff would help revive the business as part of the privatisation process.
"That is why our legislation will include a specific provision to make available at least 10% of the shares in Royal Mail to employees, as part of the privatisation process," he said.
"This is a once in a generation chance to transform the culture at Royal Mail - energising everyone and allowing employers and employees to share in the company's future success," he added.
'Patronising'
A postal service bill is expected next month, which will set out the coalition government's full plans to privatise the Royal Mail.
Mr Cable said that "mutual ownership" would be promoted, spreading worker ownership alongside private capital.
"The Liberal Democrats were the first and only party to call for an employee stake and we are now implementing it in government," he said.
Of the numerous privatisations since the early 1980s, the sale of BT in 1984 created the largest number of employee shareholders.
Billy Hayes, the general secretary of the CWU, said his members would not be impressed with the latest plan.
"Any offer of shares to employees is deeply patronising for people who have invested their working lives to a public service," he said.
Employee ownership
Mr Cable reiterated that the government's plans did not include the sale of the Royal Mail's Post Office business.
In a briefing note published by the Liberal Democrats on Wednesday, the party said the recent report by Richard Hooper had highlighted that the Royal Mail was a company "on the brink".
"It faces a lethal combination of challenges, from falling number of letters being sent to potentially one of the worst pension positions in UK corporate history," the briefing said.
The Lib Dems said they were keen to draw lessons from the success of the employee ownership structure of the department store giant John Lewis and other companies with significant employee share ownership.
The CWU has been lobbying delegates at the conference all week, urging them to keep all of Royal Mail in the public sector.
Last week's TUC conference supported an emergency motion from the CWU, which warned that hundreds of post offices would close and the universal postal service would end if the business was sold off.
The Royal Mail employs 150,000 workers.