Vince Cable and Karl Marx: Separated at birth?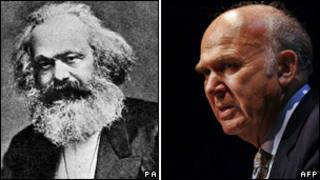 As an opposition politician, Vince Cable revelled in his role as cheerleader for the bank-bashing brigade.
He was free to air his views with little regard for the political consequences.
But, now that he is in government, the business secretary's views are scrutinised a little more closely.
So much so that his comments at the Liberal Democrat party conference have led to accusations of Marxist sympathies.
Understandably, as a member of a Tory-led coalition government, Mr Cable has quickly denied any anti-capitalist, socialist leanings.
But perhaps he has more in common with Marx than he would care to admit...
On being a Marxist
Cable:
"[My comments have been] interpreted as an outburst of Marxism. [I have had] to go round explaining that that's not what I meant."
Marx:
"I am not a Marxist."
On capitalism
Cable:
"Capitalism takes no prisoners and kills competition where it can."
Marx:
"Capitalism is dead labour, which, vampire-like, lives only by sucking living labour, and lives the more, the more labour it sucks."
On happiness and working for the common good
Cable:
"I am told that I look miserable. I'm sorry, conference, this is my happy face.
"'Aren't you having fun?' people ask. It isn't much fun but it's necessary: necessary for our country that our parties work together at a time of financial crisis."
Marx:
"If we have chosen the position in life in which we can most of all work for mankind, no burdens can bow us down, because they are sacrifices for the benefit of all; then we shall experience no petty, limited, selfish joy, but our happiness will belong to millions, our deeds will live on quietly but perpetually at work, and over our ashes will be shed the hot tears of noble people."
On the necessity of working together
Cable:
"But what is it like being in bed with the Tories? First, it's exhausting; it's exhausting because you have to fight to keep the duvet. But to hold our own we need to maintain our party's identity and our authentic voice."
Marx:
"Society does not consist of individuals but expresses the sum of interrelations, the relations within which these individuals stand."
Are bankers the new bourgeoisie?
Cable:
"A bloated banking sector behaving as masters, not the servants of the people."
Marx:
"In one word, for exploitation, veiled by religious and political illusions, [the bourgeoisie] has substituted naked, shameless, direct, brutal exploitation."
On the stomach for change
Cable:
"A proper debate is impossible with people who start from the infantile proposition that there isn't a problem; and simply hark back to a failed world of 'business as usual.'"
Marx:
"The English have all the material requisites for the revolution. What they lack is the spirit of generalisation and revolutionary ardour."
On the need for drastic action
Cable:
"[Spending cuts are] bound to hurt. Strong disinfectant stings."
Marx:
"To be radical is to grasp the root of the matter."
On the worthiness of some jobs
Cable:
"I make no apology for attacking spivs and gamblers who did more harm to the British economy than [RMT union boss] Bob Crow could achieve in his wildest Trotskyite fantasies."
Marx:
"The production of too many useful things results in too many useless people."
On property
Cable:
"I personally regret that mansion tax did not make it into the Coalition Agreement."
Marx:
"A house may be large or small; as long as the neighbouring houses are likewise small, it satisfies all social requirement for a residence.
"But let there arise next to the little house a palace, and the little house shrinks to a hut. The little house now makes it clear that its inmate has no social position at all to maintain."