Unicredit bank's chief executive resigns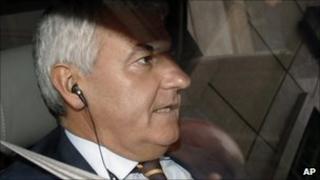 The chief executive of Unicredit, Italy's largest bank, has resigned, the bank confirmed late on Tuesday.
Alessandro Profumo had been under pressure since Libyan investors increased their stake in the bank.
Unicredit has also been the Italian bank hardest hit by the financial crisis - adding to pressure on the man who had held the top job for 13 years.
Mr Profumo's wife had earlier told news agencies her husband had resigned after "a demand made by the board".
In a statement, the Unicredit board said it had taken the position "that the time for a change of the head of the group has come".
"Alessandro Profumo therefore handed in his resignation."
Mr Profumo has faced increased boardroom opposition since the Libyan Investment Authority took a 2.6% stake in the bank over the summer. This came on top of the Libyan Central Bank holding of almost 5%.
While he had denied encouraging the investment, some shareholders feared that Mr Profumo was trying to marginalise them.
Italy is Libya's biggest trading partner and Tripoli owns a stake in state-controlled oil firm Eni.
Analysts say that Mr Profumo's support among shareholders overall has also been undermined by earnings that have yet to shake off the effects of the financial crisis.
Mr Profumo has overseen Unicredit's international expansion, particularly into central and eastern Europe. He is also president of the European Banking Federation in Brussels.