Unpaid taxes to be written off say HMRC insiders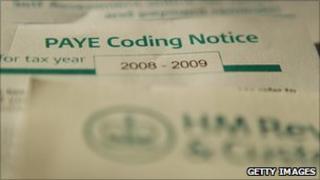 Up to £1.5bn of unpaid tax is likely to be written off by HM Revenue and Customs, insiders have told the BBC.
Staff said the vast majority would not be pursued because the cases involved were over two years old and open to legal challenge from taxpayers.
There is a backlog of 7.5 million cases of tax underpayment or overpayment - the latter estimated at £3bn which will be reimbursed - dating back to 2007-8.
An HMRC spokesman said no decision had been made on underpayment cases.
The details come just weeks after it emerged a further six million people had been wrongly taxed in the past two years, with 1.4 million people who underpaid set to receive an unexpected tax bill.
The latest cases to emerge, which are part of a huge backlog of open cases dating back to 2007/8, are not on the HMRC's new computer system and will have to be dealt with manually.
'Frustrating'
Front-line staff at HMRC have told The Report on Radio 4 that only those cases that verge on fraud will be pursued.
Cases where money is owed to taxpayers by the Exchequer will still be processed.
One staff member told the BBC: "For each underpayment there are thousands of pounds owed. Underpayments are very frustrating.
"If we had the chance to sort it out three years ago we could have recovered the money. It is now likely to be written off if it's over two years - we're not looking at underpayments beyond two years."
The staff member added: "Our directors are telling people that [those who owe tax] will appeal and fight it and this will generate more work."
Another staff member who has worked on open cases said that in their experience the underpayment of tax was never pursued.
"These people who have underpaid earn 30, 40, 50k a year and got benefits such as a company car and we're not told about them until after the tax has been paid."
The staff member added: "The cases cannot be dealt with by the new computer as they have to be done manually - what did we do with the cases older than two years? We wrote them off."
The delay in handling these open cases is due to a combination of a historic backlog, which once reached 30 million, the additional work created by problems with the new computer system and a shrinking number of staff.
HMRC has cut 20,000 jobs since 2006 and aims to shed a further 5,000 by next year.
An HMRC spokesman said: "We have said to staff if you find an overpayment to pay it back - we are prioritising vulnerable groups, old age pensioners, low-income groups - the priority is to repay these groups.
'Future decision'
"But while we are reviewing the cases of underpayment, no decision has been made on on these cases."
He added: "It's a provisional period, where staff have been asked to review underpayments. If they find someone who has underpaid then that is set aside for a future decision.
"We are going to be looking at how best to deal with these. We are going to look at the specifics of each case and apply a normal criteria in due course.
"Those who have underpaid, they will be part of the overall decision-making process - no decision yet on what to do with them. But they are being identified."