Melting ice opens up potential for Arctic exploitation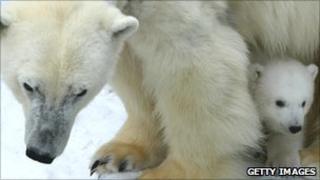 Climate change has focused attention on the economic potential of the Arctic.
Parts of the region which have been frozen over for millennia have now become accessible as a result of melting ice.
The Arctic is undoubtedly one of the planet's natural treasures - its size is similar to that of Europe and it is home to many rare species of wildlife such as Beluga whales.
The whales survive in a fragile ecosystem but below the waters in which they fish, deep beneath the seabed, lie valuable resources which could feed mankind's hunger for energy.
Oil companies say this provides them with an opportunity to explore there.
Scientific studies, such as one by the US Geological Survey conducted in 2009, suggest that 25% of the planet's undiscovered oil and gas are to be found within the Arctic region.
Other surveys claim that as many as 200 billion barrels of oil may be available, twice as much as has been found in Kuwait.
The exact amount of oil and its locations can only been established by sending ships out to drill for it - an expensive and risky process.
Direct action
But how should the quest for energy be balanced against the environmental risks?
But some companies are ready to explore. The Scottish firm Cairn Energy recently discovered oil and gas-bearing sands near Greenland.
That prompted a protest by the environmental group Greenpeace - campaigners climbed onto the rig.
"It is a reckless prospecting endeavour, trying to find new oil reserves in this fragile and pristine environment," explains one protestor.
"We intend to stay here as long as possible and as long as necessary to stop this reckless drilling," he adds.
Meltdown
Greenland's coast is relatively easy to explore compared to more northern areas which are covered by sea ice.
But according to Professor Julian Dowdeswell, director of the Scott Polar Research Institute at Cambridge University, global warming is opening up the region.
"One thing which is quite important are the predictions of climate change for the Arctic over the coming decades and century," he says.
The Arctic is regarded by most modellers of future climate to be the most sensitive area on the globe.
The average global temperature is predicted to rise by three or four degrees celsius over the next century, but in the Arctic by 2100 the temperature rise may actually be double that.
"What that means is that there is likely to be much less sea ice and therefore the places in the Arctic which are least accessible today, are being looked at because there is long-term potential and easing of navigation," Dr Dowdeswell says.
"Access through the North West Passage may become regular."
Finite resources
The five nations which border the Arctic are negotiating over who owns the rights to its resources.
Russia and Norway have agreed to co-operate in the Barents Sea but so far, economic and political factors hold most oil companies back from large-scale drilling.
That may change in years to come, says Manouchehr Takin from the Centre For Global Energy Studies, because gas and oil have finite quantities and have been produced over tens of millions of years.
"When we extract that oil and gas it cannot be generated again," he says.
"The industry has been around the world discovering easy oil and gas, so there are only the more difficult and riskier regions left - and the Arctic is one of them.
Environmental concerns
Most environmental groups oppose further energy exploration in the Arctic.
They warn an oil spill there would be more much more serious than the one in the Gulf in the Mexico, especially if it occurred in winter, when the region is plunged into darkness.
But oil companies are used to working in dangerous and inaccessible regions and ambitious firms are already pressing for the rights to operate in the Arctic, leaving governments to decide what risks they are prepared to accept in return for lucrative energy profits.